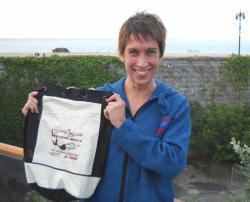 When you visit the USMS website, one of the first thing a visitor notices — displayed front and center — is the space devoted to USMS Features. This area has articles on a wide range of topics, such as:
a recent report on the Pan American masters championships
a personal interest article on Lucian Wischik: No Rules, No Limits
instructions on how to become a butterfly butternut
While many people in our LMSC probably know about the USMS Feature Articles, what is perhaps not as widely known is that the author of many of them — as well as many of the articles in SWIMMER magazine — is VMST member Laura Jones.
Laura and her husband Rob are longtime members of our LMSC. Though you will see them in local pool meets, open water swimming is a passion; as Charlottesville residents, they rarely miss a Chris Greene Lake cable swim race. In fact, Laura recently wrote a very nice article describing their travels to a number of nearby races.
It turns out that Laura also just published her debut collection of short stories, Breaking and Entering. The eleven stories in Breaking and Entering explore what happens when the barriers or bonds between people are broken by a chance encounter, a long forgotten choice, or a simple mistake. There are two stories with open water swimming scenes.