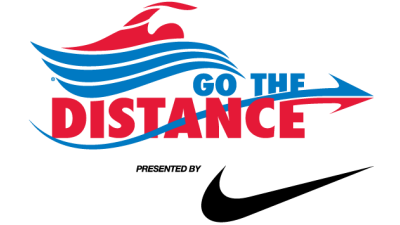 One way to reach your fitness goals in 2012 is to participate in Go The Distance (GTD), a self-directed program in which you track the distance you swim for the year. You can set a distance goal for 2012 and receive prizes from Nike Swim as you achieve various milestones along the way.
In 2011, an unprecedented 76 swimmers from our LMSC — representing 15 clubs — participated in GTD, amassing a combined 14,120 miles of swimming between them! That is over 180 miles per swimmer for the year, an impressive feat. These totals all surpassed the 2010 figures (55 swimmers, 9160 miles, 166 miles/swimmer). Excellent job, swimmers! Special kudos to Shirley Loftus Charley (1200 mi) and VMST (6580 mi) for the impressive distances they achieved.
The easiest way to participate in GTD is to use the USMS Fitness Log (FLOG). You can use the FLOG to track your daily swimming (other activities too) and it can be coupled to GTD, so that the entries in FLOG are automatically tacked onto your GTD total.
Set your GTD goal (which can be adjusted as necessary during the year) and get started!