Results for the 2012 VMST David Gregg III Memorial Meet  have been uploaded. 165 swimmers representing 19 clubs congregated at the NOVA Aquatic Center in Richmond, VA, on Feb 11-12. Fully 130 of the swimmers of the swimmers were from our LMSC, and 78 of those represented VMST in the meet.
As usual, the waters of the NOVA Aquatic Center were churned by a lot of fast swimming! 22 new LMSC records were set, including an amazing 10 from Shirley Loftus-Charley. Shirley had a transcendent 1650 swim in which she also broke the existing national records for the 1000 and 1650 freestyle! Betsy Durrant and Elizabeth Shaw each set two LMSC records; the complete list of new records are given in the table below.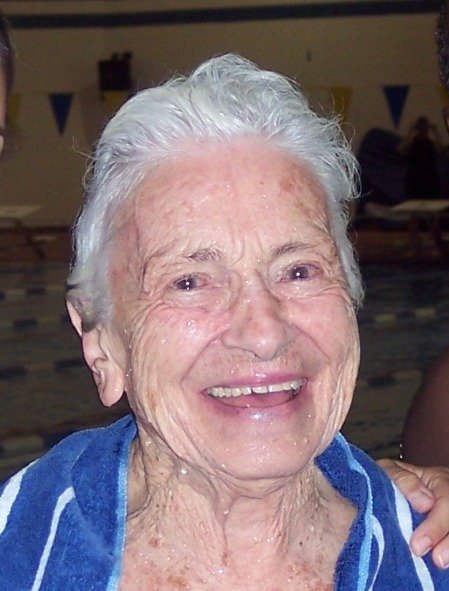 Even with Shirley's amazing swimming, the incomparable Marie Kelleher  — 99 years old and counting! — stole the show when she swam the 50 and 100 freestyles, finishing to loud applause both times. Marie swims at 5am four times a week before going to work for the family business, Kelleher Corporation. Now you KNOW you have no excuse for sleeping in! Hopefully everyone can make it to the meet next year to see her compete as a 100-year-old.
What a great meet to get pumped up for Spring Nationals! Let's get a big Virginia contingent going to Greensboro, NC. Don't forget that the entry deadline is pretty early (March 23); enter by March 9 to save $10 on your entry fee.
Everyone enjoyed a fun time at the pool and the Saturday evening social; if you have any photos, or corrections to the results, please let me know. Congratulations to all the participants, and a special thanks to all the volunteers who made it happen!
New LMSC Records at the 2012 VMST David Gregg Memorial Meet
| Age Group | Gender | Course | Event | Time | Name |
| --- | --- | --- | --- | --- | --- |
| 30-34 | Men | SCY | 1650 Free | 17:04.21 | Adam Barley |
| 30-34 | Women | SCY | 400 IM | 4:51.40 | Maura Bolger |
| 75-79 | Women | SCY | 100 Breast | 1:47.13 | Johnnie Detrick |
| 70-74 | Women | SCY | 1000 Free | 17:02.40 | Betsy Durrant |
| 70-74 | Women | SCY | 1650 Free | 28:18.86 | Betsy Durrant |
| 65-69 | Men | SCY | 100 Free | 1:00.72 | Hank Holswade |
| 60-64 | Women | SCY | 100 Free | 1:05.01 | Shirley Loftus-Charley |
| 60-64 | Women | SCY | 1000 Free | 12:07.93 (NR) | Shirley Loftus-Charley |
| 60-64 | Women | SCY | 1650 Free | 20:04.71 (NR) | Shirley Loftus-Charley |
| 60-64 | Women | SCY | 100 Back | 1:18.69 | Shirley Loftus-Charley |
| 60-64 | Women | SCY | 200 Back | 2:44.80 | Shirley Loftus-Charley |
| 60-64 | Women | SCY | 50 Breast | 39.67 | Shirley Loftus-Charley |
| 60-64 | Women | SCY | 50 Fly | 34.89 | Shirley Loftus-Charley |
| 60-64 | Women | SCY | 200 Fly | 2:43.42 | Shirley Loftus-Charley |
| 60-64 | Women | SCY | 100 IM | 1:15.44 | Shirley Loftus-Charley |
| 60-64 | Women | SCY | 200 IM | 2:40.63 | Shirley Loftus-Charley |
| 25-29 | Women | SCY | 200 Breast | 2:33.11 | Danielle Myers |
| 45-49 | Women | SCY | 50 Fly | 29.43 | Alice Phillips |
| 30-34 | Women | SCY | 200 Back | 2:20.34 | Jocelyn Posthumus |
| 18-24 | Women | SCY | 100 Fly | 59.42 | Elizabeth Shaw |
| 18-24 | Women | SCY | 200 Fly | 2:03.45 | Elizabeth Shaw |
| 55+ | Men | SCY | 200 Free Relay | 1:46.98 | Holswade, Frisch, Kutz, Wren |