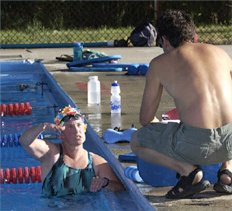 Coaches are arguably USMS' greatest asset. USMS Coach Certification clinics are a great way to improve a coach's knowledge and marketability. There are a number of opportunities to attend a clinic and complete the certification process. For coaches registered in the LMSC, tuition and partial travel reimbursement may be available: contact the Coach's Chair for details.
March 17, 2012, in Charlotte, NC. Registration deadline is March 15 but don't wait: only 40 slots are available.
Sept 7-8, 2012: ASCA World Clinic in Las Vegas, NV. Attending the ASCA clinic offers many advantages beyond coaching certification, such as a great line-up of guest speakers.
Sept 12, 2012: USAS Convention in Greensboro, NC. Details will appear on the Upcoming Events page once they become available.