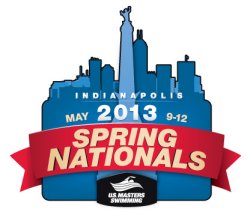 Championship meets aren't for everyone, but they are an excellent way to motivate yourself in training and to interact with people that you don't normally see in local meets. Three SCY championship meets always seem to get plenty of interest from LMSC members.
YMCA Masters Nationals are being held in Ft. Lauderdale, FL, on Apr 11-14; the mail entry forms are due on March 15. Although this is not a USMS-sanctioned meet (the times will still count for USMS Top 10), many LMSC members who are a member of a YMCA enjoy the meet and have a great time in the sun.
The Colonies Zone 2013 SCY Championship (Apr 19-21, Fairfax) is a well organized meet run in a fast pool. Many LMSC members who cannot make USMS nationals will opt instead for the zones meet, though some people go to both. One of the nice things about the zones meet is that there is a full complement for relays, so this is a great meet to attend as a team. Online entries are due Apr 12.
USMS Spring Nationals (May 9-12 in Indianapolis) is the premiere SCY championship meet for masters swimmers, and this year it is being held in a world-famous facility. Both online and paper entry forms are available, and must be received by Apr 4. Note the early deadline! Entries are received before Mar 14 are discounted.
It is always great if we can get a large contingent from our LMSC to these meets, so talk some friends into joining you.