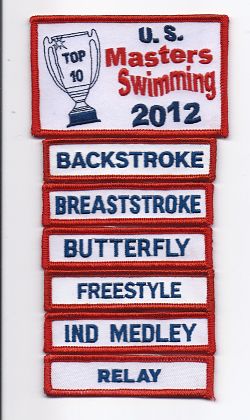 The final Top 10 lists for the 2012 short-course meters season (SCM12) have just been published. The season ran from Jan 1 to Dec 31.
Swimmers from our LMSC figured prominently in these lists, as usual: 104 ranked individual swims and 7 ranked relays. There were 23 swimmers who had at least one Top 10 swim; Shirley Loftus-Charley had another great year with 17 ranked swims, missing out on a clean sweep of her events by not swimming the 200 fly. She was closely followed by Ida Hlavacek who was ranked in 15 events, while Johnnie Detrick also cracked the double-digits by making 10 lists. An impressive showing by the fairer (and tougher) gender in our LMSC!
There were 9 individuals who had at least one top-ranked swim in an event, led by Johnnie who did so an astonishing seven times! One VMST relay also achieved a #1 national ranking in 2012. As usual, more details on these and other recent Top 10 achievements are available elsewhere on our website. Anyone making a Top 10 list can order Top 10 patches to commemorate the achievement. Nicely-formatted booklets are also available for download or order.
The LMSC record book was also re-written in the past season: 51 new records were set, 45 individual and 6 relay records. In this case, Edward Gaulrapp led the way with 7 new standards, while Shirley and Johnnie were also impressive with 4 records apiece. Nine of these swims were also new Colonies Zone records; certainly the belle of that ball would have to be Marie Kelleher whose two zone marks were also new national records. In case you were sleeping in a cave all year, last spring Marie became the first female USMS member to swim in the 100-104 age group.
Finally, there is the mythical national championship, which is based on scoring the swims in the Top 10 lists. For the SCM12 season, our LMSC came in  a respectable 14th out of 52 LMSCs while our largest team, VMST, also came in 14th out of more than 200 clubs nation-wide.
Congratulations to everyone on a great season!