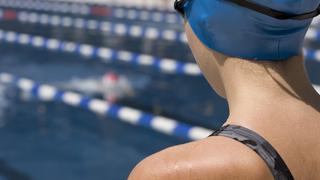 We all do it: jump in the water before practice or a race in order to wake up and get those stubborn muscles working. Of course warm ups are necessary, but what constitutes a good warm up? How long before a race should we warm up? What should we do if the warm up pool is very crowded or otherwise unavailable?
The Swimming Science website has had a number of articles about the warm up, I'd like to point out three of them:
Is there one "perfect" warm up that works well for everyone?
Pre-race warm up timing
Functional swimming warm up without a pool.
Since it is something we do before every practice, we ought to be able to get a good idea of what works and what doesn't just by paying attention to feedback from our bodies and from the pace clock. Do you often find that the 2nd or 3rd interval in a set is faster or less painful than the first one? Perhaps you did not warm up properly. Easy swimming alone usually doesn't cut it, the intensity of the warm up should approach and eventually match the intensity of the set or race that follows it.
And the nature of the "perfect" warm up can be something of a moving target as we age. I came across an interesting Q&A about this in a cycling newsletter, but it seems like it would apply to swimming and other sports equally: How Can Senior [Athletes] Warm Up Faster?