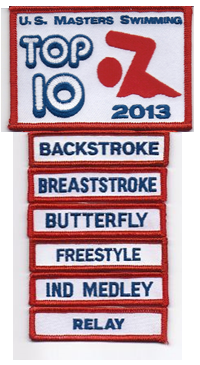 The final Top 10 lists for the 2013 short-course yards season (SCY13) have just been published. The season ran from June 1, 2012 thru May 31, 2013.
Swimmers from our LMSC figured prominently in these lists, as usual: 109 ranked individual swims and 13 ranked relays. There were 17 swimmers who had at least one Top 10 swim; Shirley Loftus-Charley had another great year with 13 ranked swims, as did Ida Hlavacek with nine Top 10 swims.

There were six individuals who had at least one top-ranked swim in an event, with Shirley, Johnnie Detrick, and Beth Schreiner each with two #1 events. Four VMST relays, all in the 65+ women's age group, were likewise tops in their events. As usual, more details on these and other recent Top 10 achievements are available elsewhere on our website. Anyone making a Top 10 list can order Top 10 patches to commemorate the achievement. Nicely-formatted booklets are also available for download or order.
The LMSC record book was also re-written in the past season: 36 new records were set, led by Laura Walker, Marianna Berkley, Ken Novell, Terry Gernstein and Ed Gaulrapp, each of whom set three records apiece. Johnnie and Marie Kelleher also set new Colonies Zone records with their swims, and Marie also set a new national records at the David Gregg meet by becoming the first female USMS member over 100 years old to compete in a masters swim meet. Wow!
Finally, there is the mythical national championship, which is based on scoring the swims in the Top 10 lists. For the SCY13 season, our LMSC came in  a respectable 20th out of 52 LMSCs while our largest team, VMST, also came in 16th out of more than 200 clubs nation-wide.
Congratulations to everyone on a great season!