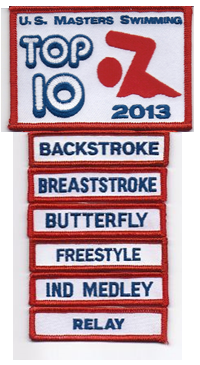 The final Top 10 lists for the 2013 long-course meters season (LCM13) have just been published. The season ran from Oct 1, 2012 thru Sept 30, 2013.
Swimmers from our LMSC figured prominently in these lists, as usual: 144 ranked individual swims and 11 ranked relays. There were 34 swimmers who had at least one Top 10 swim; Shirley Loftus-Charley had another great year with 16 (!) ranked swims, as did Marcia Berry and Johnnie Detrick with nine Top 10 swims.
There were 10 individuals who had at least one top-ranked swim in an event; Chris Stevenson had three while  Shirley, Marcia, Lucille Griffin, John Hogan and Marianna Berkley each had two #1 events. Three VMST relays were likewise tops in their events. As usual, more details on these and other recent Top 10 achievements are available elsewhere on our website. Anyone making a Top 10 list can order Top 10 patches to commemorate the achievement. Nicely-formatted booklets are also available for download or order.
The LMSC record book was also re-written in the past season: 74 new records were set, led by Len Gushe with ten records; close behind were Shirley (8) and Marcia (7). Thirteen of the records were also new Colonies Zone records, including three each by Len and Chris. The VMST relay of Marcia, Johnnie, Shirley and Laura Walker set a new national and world records at Richmond's Colonies Zone championship meet in the 280+ Women's 400 Free Relay. I heard several young timers at the zones meet marvel over this swim!
Congratulations to everyone on a great season.