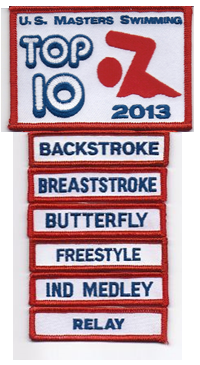 The final Top 10 lists for the 2013 short-course meters season (SCM13) have been published. The season ran from Jan 1, 2013 thru Dec 31, 2013.
Swimmers from our LMSC figured prominently in these lists, as usual: 90 ranked individual swims and 8 ranked relays. There were 28 swimmers who had at least one Top 10 swim; Shirley Loftus-Charley had another great year with 15 ranked swims, as did Ida Hlavacek (8) and Marcia Barry (7).
There were six individuals who had at least one top-ranked swim in an event; Shirley had three while Marcia and Johnnie Detrick each had two #1 events. Five VMST relays were likewise tops in their events. As usual, more details on these and other recent Top 10 achievements are available elsewhere on our website. Anyone making a Top 10 list can order Top 10 patches to commemorate the achievement. Nicely-formatted booklets are also available for download or order.
The LMSC record book was also re-written in the past season: 42 new records were set, led by William Throne with seven records; Marcia was close behind with six new standards. Three of Marcia's new records were also new Colonies Zone records. The VMST relay of Marcia, Johnnie, Shirley and Laura Walker set four new national records and three new world records in the 280+ Women's relays. Wow!
Since the SCM season is the last of the year, the list of 2013 USMS All-Americans is now final; this is an honor bestowed on a swimmer with a #1 national ranking in one or more of the three seasons (SCY, SCM, LCM) ending in 2013. The LMSC had 14 individual 2013 All-American swimmers; the most impressive of the lot has to be 100-year-old Marie Kelleher, who achieved that honor for the 50 yard freestyle at the David Gregg meet last February. There were also 18 relay 2013 All-Americans, members of a top-ranked relay. Relay All-Americans may purchase a certificate and patch commemorating this honor using this order form; individual All-Americans should be receiving a similar form in the mail.
Congratulations to everyone on a great year!