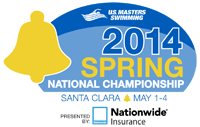 Six swimmers from our LMSC participated in the 2014 USMS Spring National Championship, held last weekend (May 1-4) in the historic George F. Haines International Swim Center in Santa Clara, CA. Results have been added to our website.
By all accounts this was an impressive meet; at 2249 swimmers it was the second largest USMS nationals meet ever held. Participants were treated to a well run meet in a nice facility, and had the opportunity to watch more than a dozen Olympians slice through the water. A video of reigning Olympic champion Nathan Adrian swimming the 100 free at the meet is shown below; many more videos are available on the USMS YouTube channel.
Our six swimmers acquitted themselves well, too, with Opal Brink bringing home the highest placing (3rd in the 1000 free). Congratulations to all of you!