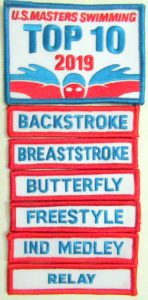 The final Top 10 lists for the 2019 short-course yards season (SCY19) have been published. The season ran from June 1, 2018, thru May 31, 2019.
Swimmers from our LMSC did well: 149 ranked individual swims and 40 ranked relays. There were 50 swimmers who had at least one Top 10 swim; Shirley Loftus-Charley led the way with 13 listings, followed by Greg Harris with 9 swims. There were 11 swimmers who had at least one top-ranked swim in an individual event, with Katie Grier taking top spot in five events. Other top-ranked swimmers from our LMSC were Susan Bricken (2), Johnnie Detrick (2), Logan Burton, Doug Slater, Shirley Loftus-Charley, Marcia Barry, Sophie Rittenhouse, Beth Schreiner, Denise Letendre, and Andrew Greenhalgh. Wow, that's a lot of fast swimming!
More details on these and other recent Top 10 achievements are given elsewhere on our website. Anyone making a Top 10 list can order Top 10 patches to commemorate the achievement. Nicely-formatted booklets are also available for download.
The LMSC record book was also re-written in the past SCY season:  58 new individual records were set. Our LMSC was also impressive at the zone level, setting 8 new Colonies Zone records, with Logan Burton leading the way with two new zone records.
The mythical national championship rankings are based on scoring the Top 10 swims by zone, LMSC or club. As an LMSC, Virginia was ranked 8th out of the 52 LMSCs. At the club level, we had two clubs in the top 10: Club Tribe (10th) and VMST (17th) out of the 300+ clubs with members who recorded Top 10 swims. Great job, teams!
Congratulations to everyone on a great season!