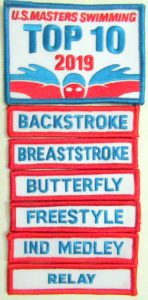 The final Top 10 lists for the 2019 short-course meters season (SCM19) have been published. The season ran from Jan 1, 2019, thru Dec 31, 2019 and includes competitions that took place in 25m pools.
Our LMSC had another great season: there were 118 ranked individual swims and 17 ranked relays our swimmers. There were 40 swimmers who had at least one Top 10 swim; Shirley Loftus-Charley led the way with 15 listings, followed by Greg Harris  and Ida Hlavacek with 8 swims apiece. We had eight swimmers with top-ranked performances, including five by Katie Grier. In fact, Katie was named a 2019 Pool All-Star for the 40-44 age group, meaning she had more top-ranked swims in the past three seasons than any other woman in her age group. That's quite an achievement! The 2019 Long-Distance All-Stars, based on points earned in long distance national championships, have also been named, with Shirley once again earning this honor in the 65-69 age group.
Great job, swimmers!
More details on these and other recent Top 10 achievements are given elsewhere on our website. Anyone making a Top 10 list can order Top 10 patches to commemorate the achievement. Nicely-formatted booklets are also available for download.
The LMSC record book was also re-written in the past SCM season:  39 new individual records were set, with Denise Letendre, David Nicholas, and Katie Grier setting the pace with four new marks apiece. Two of Katie's swims set new Colonies Zone records; Kristen Harris (2), Austin Temple (2), and Greg Harris also set new SCM Zone Records.
The mythical national championship rankings are based on scoring the Top 10 swims by zone, LMSC or club. As an LMSC, Virginia was ranked 11th out of the 52 LMSCs, while at the club level VMST was our best performer, placing 12th out of the 270+ clubs with members who recorded Top 10 swims. Based on our population compared to other LMSC, we are definitely punching above our weight class.
Congratulations to everyone who swam in a 25m pool last season, well done!