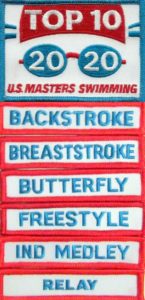 The final Top 10 lists for the 2020 short-course yards season (SCY20) have been published. The season ran from June 1, 2019, thru May 31, 2020 and includes competitions that took place in 25y pools.
Considering its shortened nature due to the Coronavirus, our LMSC had a great season: there were 164 ranked individual swims and 22 ranked relays our swimmers. There were 65 swimmers who had at least one Top 10 swim; Shirley Loftus-Charley led the way with 11 listings, followed by Greg Harris and Marcia Barry with 6 swims apiece. We had eight swimmers with top-ranked performances, including four by Fall Willeboordse. Seven relays ruled the waves in their respective age-groups, six by Club Tribe and one by VMST.
Great job, swimmers!
More details on these and other recent Top 10 achievements are given elsewhere on our website. Anyone making a Top 10 list can order Top 10 patches to commemorate the achievement. Nicely-formatted booklets are also available for download.
Despite the shortened season, the LMSC record book still had some new SCY record entries: 17 new individual records were set, with Fall Willeboordse and Marcia Barry setting the pace with three new marks apiece. Two of our swimmers also set new SCY records, with Austin Temple and Logan Burton setting one apiece in the 18-24 age group.
The mythical national championship rankings are based on scoring the Top 10 swims by zone, LMSC or club. As an LMSC, Virginia was ranked 10th out of the 52 LMSCs, just one point behind the 9th-place finisher. At the club level Club Tribe was our best performer, placing 11th out of the 330+ clubs with members who recorded Top 10 swims. Based on our population compared to other LMSC, we are definitely punching above our weight class.
Congratulations to everyone who swam in a 25y pool last season, well done!